Objectives and Multiple Value Management
Objectives
We encourage you to take a step back and, if you haven't done so already, begin to form a vision for the future of your woodland.
What is important to you? Wildlife, recreation, investment, natural history, a beautiful vista, diverse plant communities, risk-reduction, or a bit of all of the above? Ask yourself what you want your woodland to be like in one year, in ten years, in 100 years?
Longleaf forests are best suited for individuals who intend to take an active role in the management of their property.
This Conserving Working Lands workbook provides tools and resources that can help you clarify your objectives, plan, and implement management for your land.
---
Multiple Value Management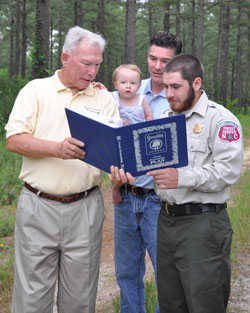 Longleaf pine forests provide cultural, natural, and economic values—all on the same acres. By focusing on multiple values of a forest, a woodland owner manages for the ecosystem as a whole and derives benefits from a range of attributes rather than seeking to maximize any one value alone, such as timber or wildlife.
---